This summer Mass Bike introduced bike valet parking at Fenway Park for ticketholders attending weekend Red Sox games.
My son is a devoted Red Sox fan and a biking enthusiast, so we decided to ride our bikes to the Red Sox – Mariners game on Saturday.  The nine-mile roundtrip turned out to be easier than anticipated as much of the journey from Jamaica Plain to Fenway was along the Southwest Corridor bike path, and the streets we traveled on were not heavily trafficked with automobiles.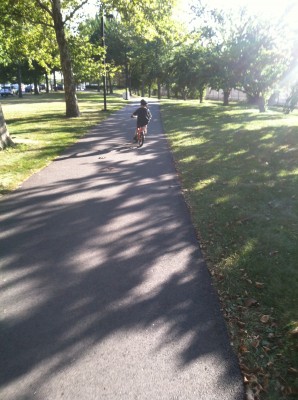 The Mass Bike staff at Fenway Park were friendly and helpful and checked in our bikes quickly, giving us a claim ticket and sending us on our merry way to the game.  At pick up time, not only did they give us back our bikes, but they gave my son a Dustin Pedroia bobblehead.
Great work by Mass Bike and the Red Sox to make it even easier to bike to the game.  I know we'll be doing it again next season.